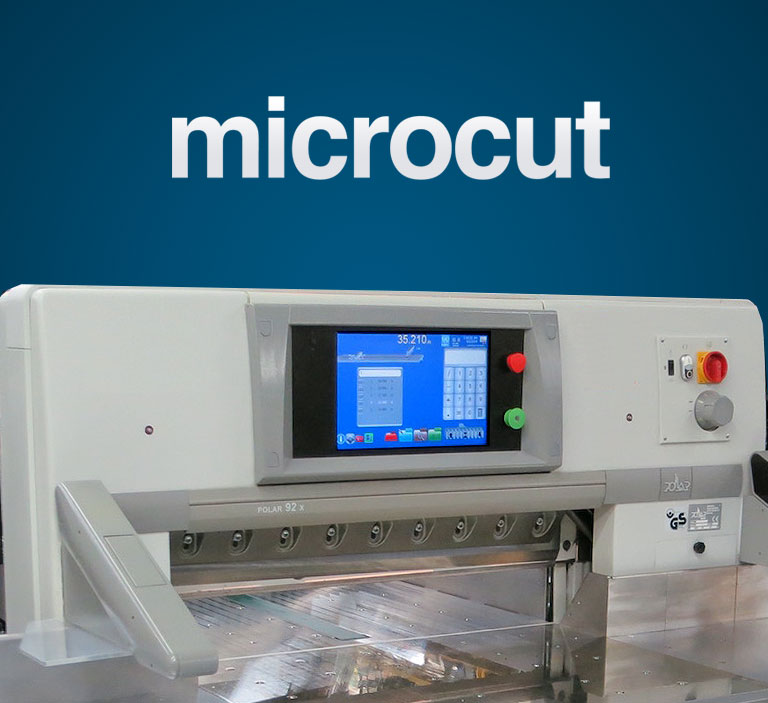 Microcut
Transcend

Paper Cutter Update Kit

The Microcut® Transcend Update Kit, once applied, controls all clamping, cutting, and safety pin operation, monitors and sends knife motion and position status, interfaces with multiple safety curtain options and is all controlled by the power of a Microcut X-12PLUS. The Microcut Transcend Update Kit can cost effectively bring your old paper cutter up to modern operational and safety standards extending the life of your investment.

The microcut Transcend uses the powerful Microcut X-12PLUS backgauge control system for its operator interface.
Microcut Transcend Install Examples
Below are examples of customer machines that have been updated with the microcut Transcend Paper Cutter Update kit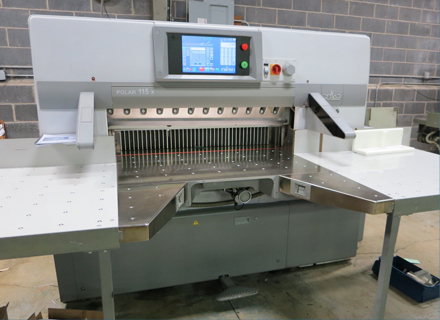 Polar® X-XT Paper Cutter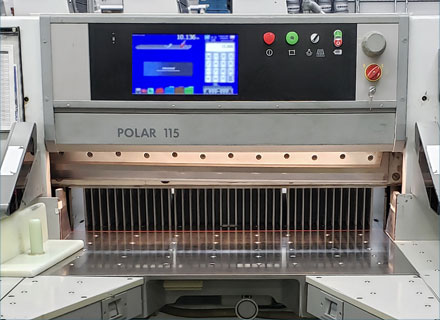 Polar® E-ED Paper Cutter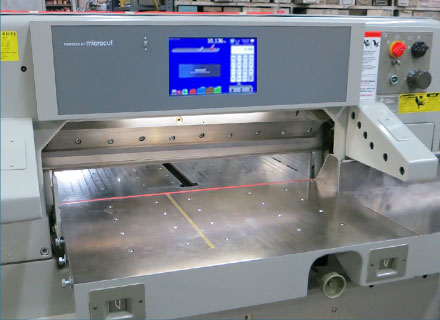 Polar® EM-EMC Paper Cutter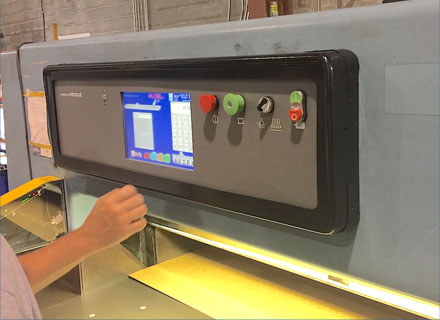 Wohlenberg® MCS Paper Cutters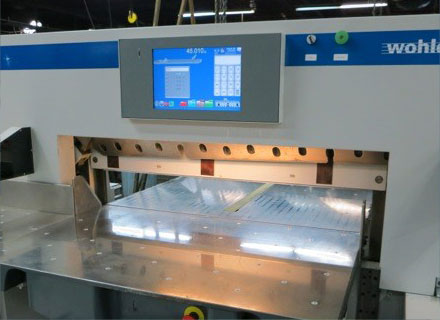 Wohlenberg® CUT TECH Paper Cutters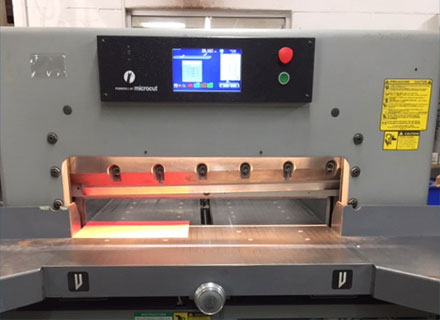 Challenge® Paper Cutters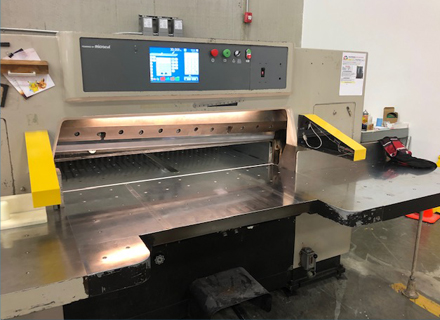 ITOH® Paper Cutters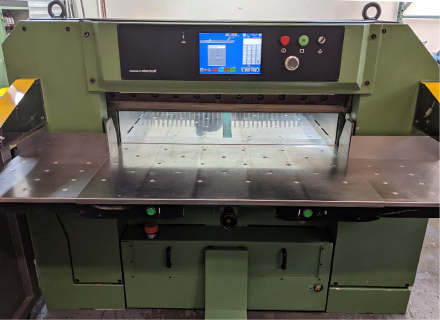 Schneider® Paper Cutters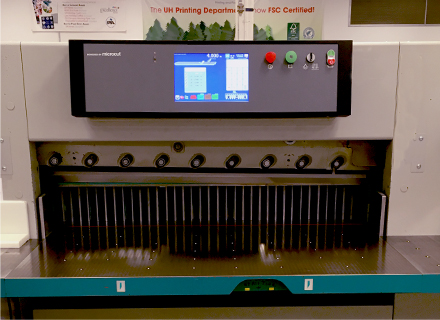 Perfecta® Paper Cutters

"We are able to transfer data from the cut files in prepress. This is a really nice added benefit for our more complex jobs, and something we could not do with the other paper cutters we were considering."
Kirk Larsen, Graphic Partners
Why choose the Microcut?
Here are six reasons for you to consider the Microcut Transcend for your paper cutter:
Reduces your reliance on parts that are no longer available
Avoids costly replacement parts
Boosts your paper cutter accuracy
Brings your paper cutter up to modern safety standards
Microcut Plus WS units allow paper cutters to convert .JDF files as it is CIP 3/4 enabled
Extends the life of your paper cutter
The Compatible Brands
Here are the brands that the Microcut Transcend can be installed. Don't see your paper cutter brand? Contact Us.
POLAR
PRISM
SABER
CHALLENGE
SCHNEIDER
SCHNEIDER ENGINEERING
DEXTER LAWSON
HARRIS SEYBOLD
PERFECTA
ITOH
PIVANO
MAXIMA/ADAST
WOHLENBERG
BAUM CUT
EUROCUTTER
How the Microcut Transcend Update Kit Works
Below is an illustration of how the Microcut Transcend is incorporated on a paper cutter.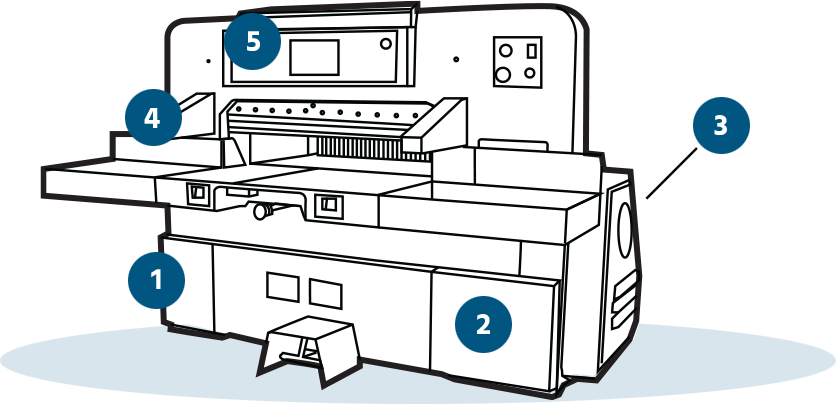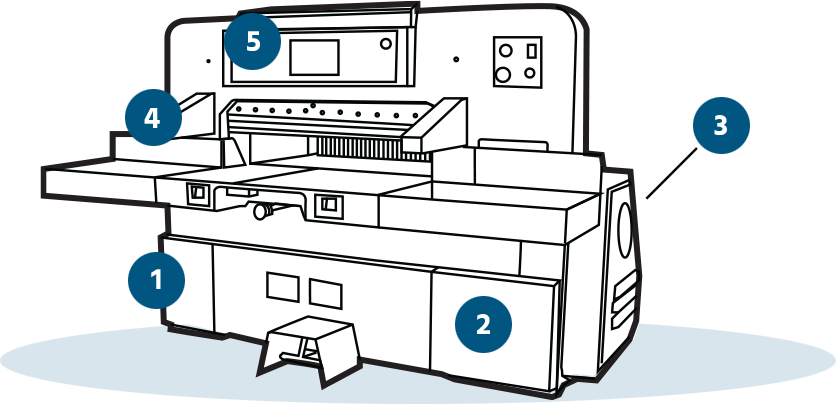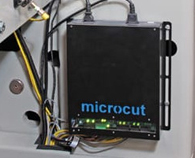 1. H4 CCS Drive Box
Complete Cutter Control System that positions fast and accurately the back-gauge, monitors knife, controls clamp, air table, main motor, knife change, safety curtain, safety pins and optional peripheral equipments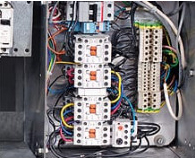 2. Power Panel
Interfaces the AC and DC power components such as main motor, air motor, clutch, hydraulic valves, front display panel, Circuit breakers and any other component that would require power.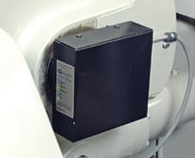 3. Knife Position Monitor (KPM)
Monitors and sends knife motion and position status to the control system.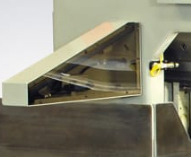 4. Safety curtains
The system can interface with multiple curtain options.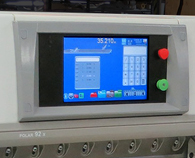 5. Screen and Panel
The Microcut 12" color touch screen display is incorporated into a panel that fits into the front of an existing paper cutter.
The power of Microcut X-12PLUS
The Transcend control interface runs on the fully featured Microcut PLUS WS.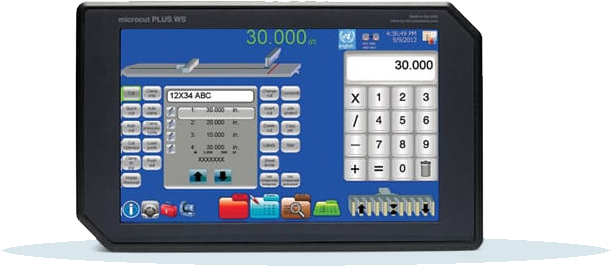 The C&P Microsystems Microcut X-12PLUS backgauge control system is designed to automate backgauge movement for the Transcend. The PLUS WS model includes a state of the art drive control system with an intuitive, easy to use color touch screen operator interface integrating CIP3/4 compatibility.