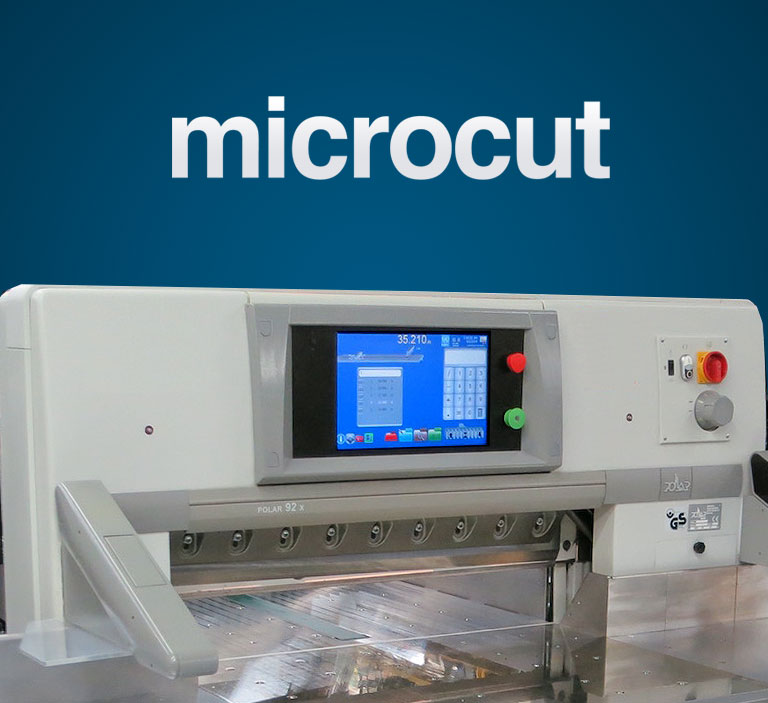 Microcut

® bringing new life to paper cutters

Purchasing a new paper cutter is a huge investment. The most common thing that becomes obsolete on a paper cutter is its computer control system. Microcut® offers two solutions to update your paper cutter computer control system. Our products will allow you to automate jobs, increase productivity and bring new life to an older paper cutter for a fraction of the cost of a new machine.
Let Microcut® make your paper cutter smarter, safer and last longer. Developed by C&P Microsystems, the world leader in paper cutter automation, Microcut units will update the backgauge movement on any make, model, and size paper cutter while offering increased productivity, greater accuracy, and improved reliability. The addition of Microcut software will optimize the performance of any used paper cutter, easily giving it a higher level of performance for a fraction of the cost of a new machine.
It all starts with the Microcut's easy-to-use operator interface: setup and programming is fast and simple, with no complicated codes to memorize. The backgauge position is clearly shown using the unit of measurement you prefer. Advanced programming options allow complicated jobs to be initiated with only a few keystrokes. Easily enter fractions or lay changes. Make cut additions or deletions. Our non-volatile memory ensures you never lose data. The Microcut PLUS WS is also CIP 3/4-enabled and network compatible which means you can quickly and easily convert .JDF files that contain cut-block information.

"We are able to transfer data from the cut files in prepress. This is a really nice added benefit for our more complex jobs, and something we could not do with the other paper cutters we were considering."
Kirk Larsen, Graphic Partners
Why choose the Microcut?
Here are six reasons for you to consider a Microcut retrofit computer for your paper cutter:
Reduces your reliance on parts that are no longer available
Avoids costly replacement parts if they are available
Boosts your paper cutters accuracy
Microcut Plus WS units allow paper cutters to convert .JDF files as it is CIP 3/4 enabled
Microcut Plus WS units are networkable allowing collection of management information
Extends the life of your paper cutter
The Brands Microcut Can Update
Here are the brands of paper cutters on which Microcut systems can be installed. Don't see your paper cutter brand? Contact Us.
POLAR
PRISM
SABER
CHALLENGE
SCHNEIDER SENATOR
SCHNEIDER ENGINEERING
DEXTER LAWSON
HARRIS SEYBOLD
PERFECTA
ITOH
PIVANO
MAXIMA/ADAST
WOHLENBERG
BAUM CUT
EUROCUTTER
Microcut Stand-Alone Units
Each model has the following unique features:
The Microcut Transcend

Paper Cutter Update Kit

Below are examples of customer machines that have been updated with the microcut Transcend Paper Cutter Update kit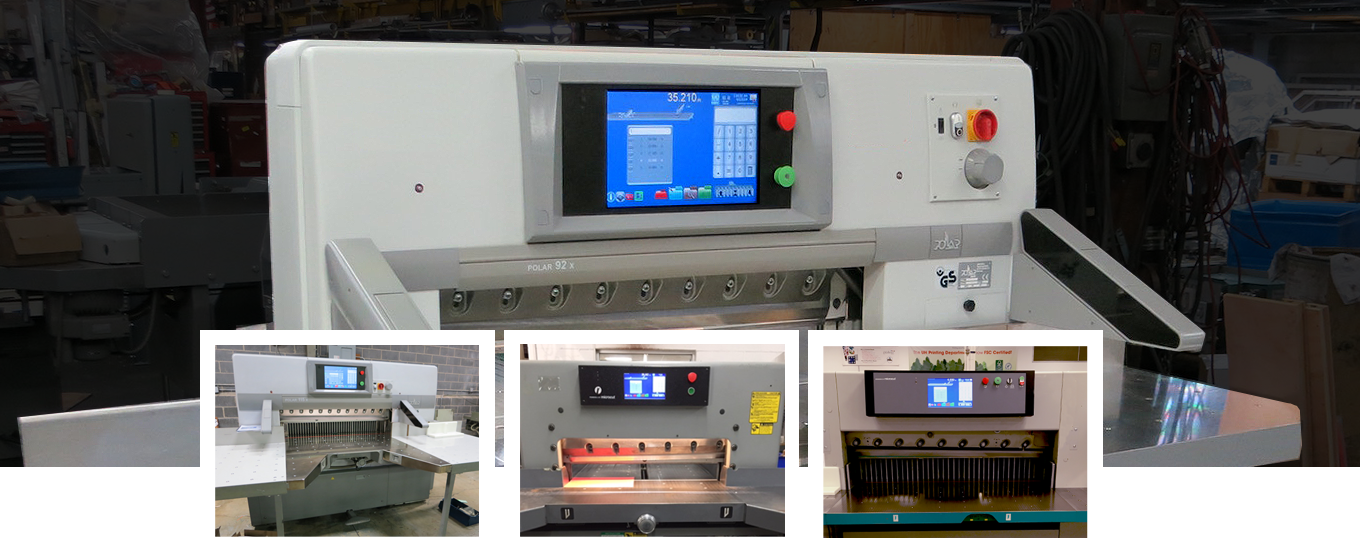 The Microcut® Transcend unit controls and monitors all clamping as well as all cutting and safety pin operation. It also monitors and sends knife motion and position status, interfaces with multiple safety curtain options and is all controlled by the power of a Microcut PLUS WS computer. The Microcut Transcend unit can effectively bring your old paper cutter up to modern operational and safety standards thereby extending the life of your existing paper cutter while eliminating the need for investment in a new machine.
The Microcut Transcend uses the powerful Microcut PLUS WS backgauge control system for its operator interface.