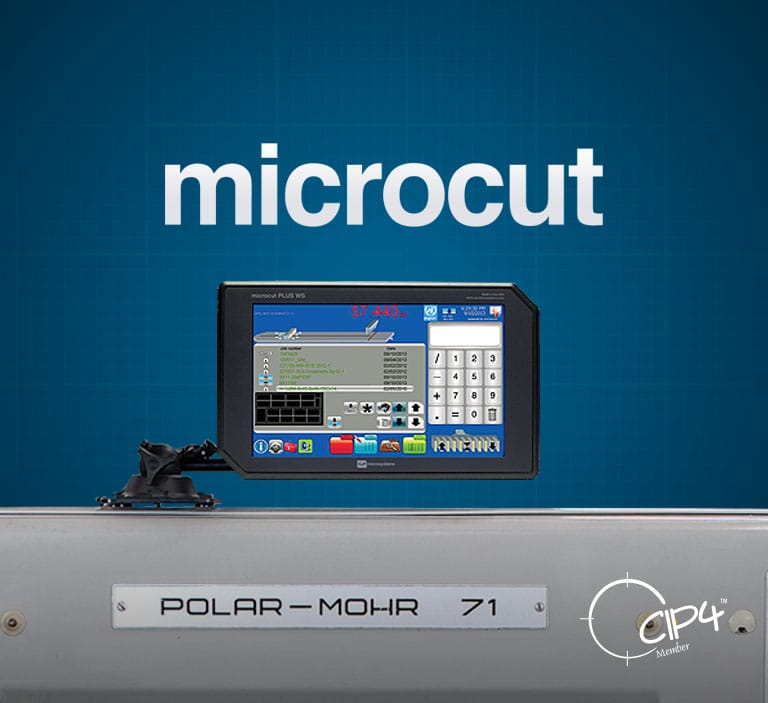 microcut® Transcend Clamp/Cut Control Systems
Bring new life to your old paper cutter.
The microcut® Transcend paper cutter control system allows any flywheel cyclical paper cutting machine to be brought up to modern standards. The system is a complete clamp/cut control system that can replace an existing control system and is available as an OEM package for new machines.
(The system requires installation of a microcut PLUS WS backgauge control system for the operator interface.)
The microcut Transcend Control System Components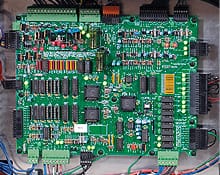 Transcend Control PCB
Controls all clamping, cutting, and safety pin operation. Safety and expansion CPUs for monitoring, cross verification, and full machine control.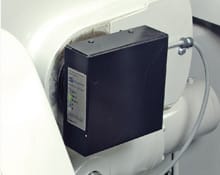 Knife position monitor
Monitors and sends knife motion and position status to the control system.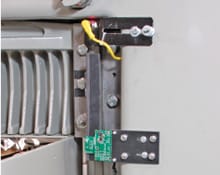 Clamp encoder assembly (Optional)
Monitors clamp motion for clamp lead (knife delay). Can interface to MIS system for paper height computations.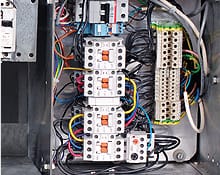 Power panel
Interfaces the AC power components (Main motor, Air motor) and Circuit breakers (H3 drive and DC power supplies)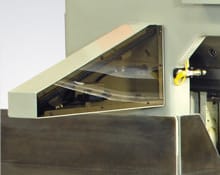 Safety curtains
The system can interface with multiple curtain options.
Sensors that need to be provided or the sensors from the original machine that will be used:
Cut buttons, safety pin full in and full out, clamp treadle up, hand wheel sensor, and shear bolt sensor(s).
microcut Transcend Features
Full machine control with dual channel internal control

Two independent CPUs
Two independent oscillator-controlled fail safe channels
Two independent force-guided relays to control primary drive power
Cross monitoring
Full internal safety checking

Full status and diagnostics shown in microcut display
Voltage options for clamp and cut solenoids
Independent voltage option for safety pin power
Auto cut option
Clamp-only option
Cut optimize operation for machines with independent locking valve
Programmable clamp pressure
Auto stop down option for knife adjustment
Multiple safety curtain options
Additional inputs for:
Covers
Shear bolt(s)
E-stop
Foot treadle
Air paddle
Autotrim style table full in
Oil filter
Open inputs for future expansion
Additional output control for:
Second air zone
Load control
Autotrim style table
Air motor control
Important safety note:
The microcut Transcend system for legacy paper cutters is an electronic control only and will not compensate for mechanical or hydraulic shortcomings in the machine.
The microcut PLUS WS
The microcut Transcend Clamp/Cut Control Systems is powered by the versatile microcut PLUS WS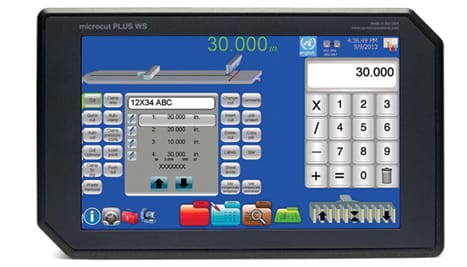 The C&P Microsystems microcut® PLUS WS backgauge control system is designed to automate backgauge movement on any used paper cutter regardless of brand or size. The system includes a state of the art drive control system with an intuitive, easy to use color touch screen operator interface integrating CIP3/4 compatibility that can replace existing control systems. It's also available as an OEM package for new machines.
The microcut PLUS WS Components

Standard display retrofit box

Flat panel display with mounting box for built-in look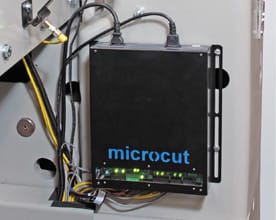 H3 Drive unit for machine control interface and drive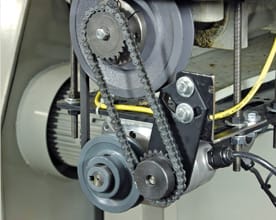 Shaft encoder for position information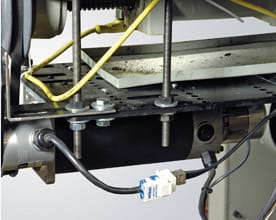 Backgauge motor for positioning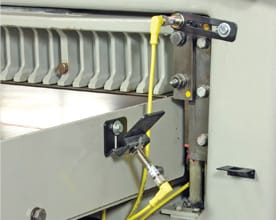 Sensors for clamp, clamp shoe, position and cut if required.
microcut Transcend Specifications