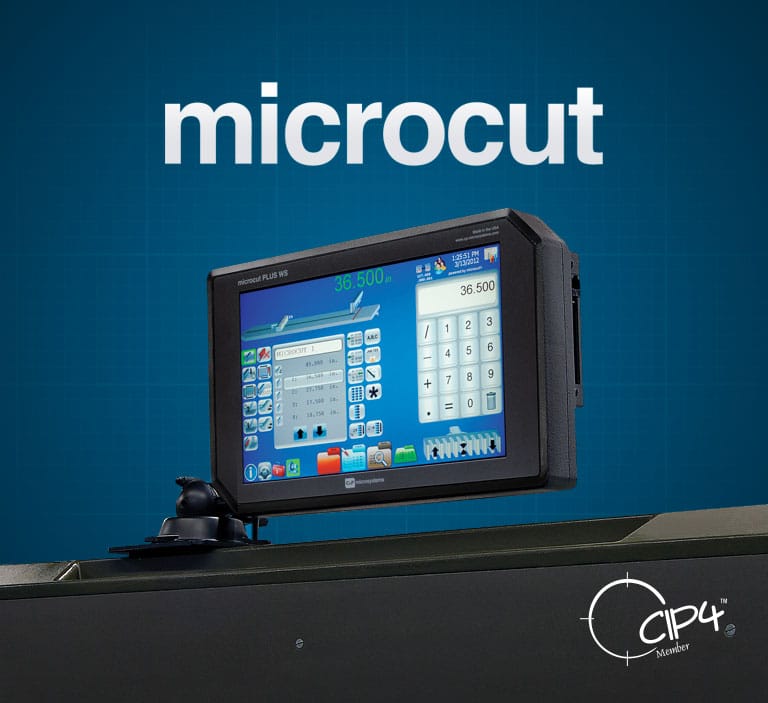 microcut®
Smart Automation, Smarter Performance
Technology moves quickly. The first thing to become obsolete on a paper cutter is the computer. The microcut® allows you to completely replace your computer to automate jobs, increase productivity and bring new life to an older paper cutter.

Let microcut® make your paper cutter smarter. Developed by C&P Microsystems, the world leader in paper cutter automation, microcut for guillotine cutters can update the backgauge movement on any legacy paper cutter, offering increased productivity, greater accuracy, and improved reliability. The addition of microcut software will optimize the performance of any used guillotine paper cutter, easily giving it a higher level of performance for a fraction of the cost of a new machine.
It all starts with the easy-to-use operator interface: setup and programming is fast and simple, with no complicated codes to memorize. The backgauge position is clearly shown using the unit of measurement you prefer. Advanced programming options allow complicated jobs to be initiated with only a few keystrokes. Easily enter fractions, lay changes, additions, or make deletions. Non-volatile memory ensures you never lose data. And the microcut PLUS WS is CIP3/4-enabled and network compatible.
Not even the most skilled operator can correctly position the backgauge as quickly and as accurately as microcut. Couple that with automatic data entry that turns setup time into production time, and you'll see significant increases in productivity—often 50% or more.
All microcut systems are designed to run trouble free for many years. Should service be required, C&P Microsystems can provide technical support using self-diagnostic systems, telephone and internet support, and a worldwide network of dealers. The industry leader with over 25,000 worldwide installations, microcut delivers the finest, most intelligent products in the area of industrial guillotine paper cutter automation.
microcut Models & Features
Each model has the following unique features: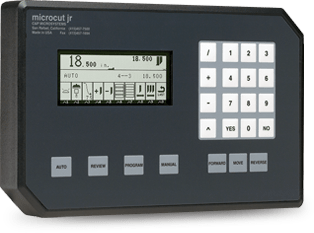 microcut JR
LCD graphical display
2000 cut locations with 6-character job selection
Limited to paper cutters up to 37" in size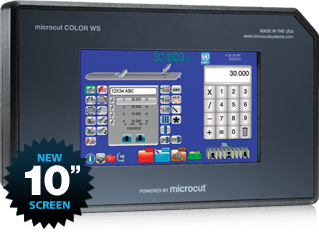 microcut COLOR WS
NEW 10" Color, wide format touch screen
Windows®-based operating system
Graphic interface
USB for software update
For all sizes of paper cutters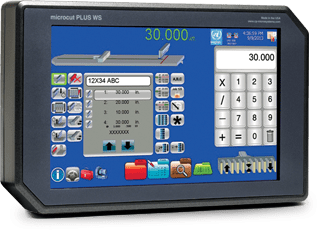 microcut PLUS WS
12" Color, wide format touch screen
Windows®-based operating system
Graphic interface
Virtually unlimited memory capacity
USB port for data exchange and software update
CIP3/4 capable
Network compatible
For all sizes of paper cutters
microcut Standard Features
Modular, solid state circuitry
DC motor drive
Microprocessor-controlled, infinitely variable backgauge drive
Repeatability of backgauge position to +/-.002 inches (.05 mm)
Automatic backgauge return
Measurements in inches, centimeters, millimeters or sun
Program entry or correction through the keyboard with the backgauge stationary or while cutting the lift
Automatic computation and entry of fractions
Insertion or deletion of commands from existing programs
Stock eject, turnaround, loading points, and job information
Infinite lay compensate mode for as many sides as requested
Non-volatile memory—no batteries required for memory support
Optional auxiliary controls for air table
Speed range: 24 - 960 inches per minute, both forward and reverse, depending on size and condition of cutter
Self-diagnostic electronics
Electrical: 85 - 265 VAC, 50/60 Hz @ 1 KVA
Warrantied for one year from date of shipment against defects in parts and workmanship